ACE VINA TECHNOLOGY CO.,LTD was established in 2019 in Hanoi, Vietnam.
We supply sales and technical service in SMT ( Surface Mount Technology ) and cleaning room. We have SMT machines (Printer, Chip Mounter, Reflow oven , SPI,AOI), SMT peripheral machines (Loader, Unloader, Profiler , Inspection machines, Solder paste mixer , Cleaning machines…), SMT spare parts ( belt, motor , driver, nozzle, feeder, pump,…). We also provide ESD , EOS devices ( Ionizing Blower , Grounding, wrist trap , shoes tester, ESD real-time monitoring system, EOS real-time monitoring system,… ) and cleaning room consumables ( SMT wiper roll, cleaning room wiper, magazine rack, ESD chair…).
Our staffs have many experiences. We know that success need not only good products but also excellent and fast support for customers. And we bring all to customers.
We look forward to the long term business and win-win situation with you.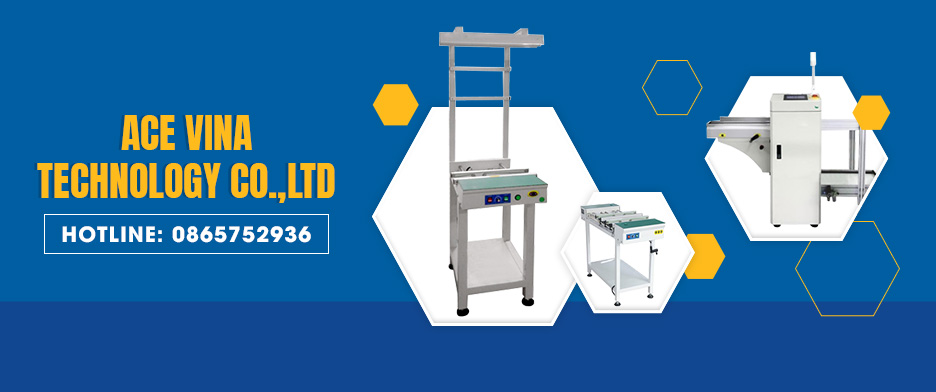 ACE VINA TECHNOLOGY CO.,LTD
Address: Group 03, Yen My Village, Duong Quang, Gia Lam district, Hanoi city, Vietnam
Tel: (+84) 0865 752 936
HCM City Brand: No 366, Pham Van Tri street, Ward 5, Go Vap district, Ho Chi Minh city, Vietnam
Tel: (+84) 0913 582 677
Email: sales@acevinatech.com / taupham@acevinatech.com
Website: https://acevinatech.com